Radon & Real Estate Services in
Kamloops, Kelowna, Vernon

& Nearby
Radon can put contingencies on buying or selling a home
Because of radon's health risks, having a radon issue can cause problems at the time of sale.
Every home is distinct, depending on location, style & color, and materials used. Even with all of these unique attributes, they still share many similarities.
Every home, young or old, can potentially be exposed to high radon levels. Radon can accrue inside of a building, making a seemingly innocent home a dangerous health hazard.
Just as radon can be found in almost any home, it can also be mitigated and minimized. While it certainly is important to live in a home with low radon levels, it is even more crucial when trying to buy or sell a home. Real estate agents will take radon gas into account, as should homeowners.
Call BC Basement Systems or contact us online today to learn more about effective radon testing and mitigation in the British Columbia area. We are fully trained and certified to effectively help local homeowners lower radon levels.
A home's foundation can determine radon levels
There are many types of foundations, such as slab-on-grade, crawl space, or basement varieties. These can all support high levels of radon, and a vast majority of these situations can achieve significant radon reduction with proper mitigation.
Some homes have a much more difficult time with mitigation, and may not be able to be improved further. This kind of information is important to know before selling or buying a home. This begs the question, how does radon find its way into the home?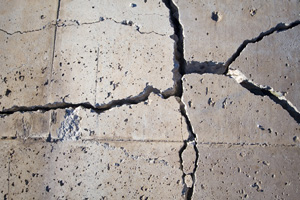 Cracks in the foundation are an easy point of intrusion for radon gas.
How radon penetrates the home
The foundation of a home is the most important factor when determining how radon enters the home. Radon is the byproduct of uranium decay, and since it is a gas, it has no problems slipping through cracks and the porous material of a foundation.
The vast majority of soils have uranium within. While uranium decays it releases radium and polonium, which then degenerate into radon gas. This dangerous substance can easily infiltrate the home through the smallest inlet.
The stack effect will also assist radon's entry into the home. This process causes air to circulate upward through the home as warm air rises and is exhaled through the roof. This unconditioned air from below can contain radon and other gases.
This suction effect is caused by the difference in pressure between the inside and outside of the home, drawing unconditioned air through the foundation. Because the pressure differential is so great, small crevices will act just like a vacuum. Therefore, radon will accrue within, particularly during the wintertime when windows and doors remain closed.
Interpreting radon results
If a real estate agent mentions that a home has moderately high radon levels, is it worth buying?
Many real estate agents will ask for information concerning a home's radon level. Radon gas is quantified via picocuries per liter, or pCi/L. There are three different ratings indicating the amounts of radon present: 4.0 pCi/L and above is considered high, 2.0 -4.0 pCi/L is rated as moderate, and below 2.0 pCi/L is a low rating.
The Environmental Protection Agency recommends reducing levels in any environment in the U.S. containing 4.0 pCi/L and above. However, the World Health Organization (WHO) recommends any European environment with 2.7 pCi/L and above to be mitigated. What's the difference?
According to Dr. Maria Neira of WHO, the majority of lung cancer cases caused by radon are not a result of high radon levels; instead, they are typically due to low or medium level exposure. However, experts agree that any level of radon is hazardous.
BC Basement Systems can help mitigate and lower the radon levels in a home to within safe margins.
Selling a home and the real estate market
A skilled real estate will have knowledge about radon, and will maintain awareness concerning radon levels before attempting to sell a home. If you're in the market, be sure to request the current levels and ask for mitigation to promote the lowest possible amount.
If you are looking to have a home built, the potential for future radon issues can still exist, and it is much more expensive to handle afterwards than to take preventive measures. While the home is being built, ask the builder to install a radon control system. According to the National Association of Home Builders (NAHB), one in six new homes has radon mitigation, meaning almost 200,000 homeowners are acting early to safeguard their home and families from radon.
BC Basement Systems is your local resource for radon mitigation services in British Columbia. If you're looking for more information about radon intrusion, call or contact us today!
Looking for a price? Get a no cost, no obligation free estimate.